Choosing the right type of child care is one of the most important decisions parents can make. A lot of time can be spent thinking about the type of care, will it suit my needs now and in the future, what is the best child care?
Determining the type of care your child needs. Consider their temperament, likes and dislikes, health, interests and behaviour, developmental play and learning styles, interaction with other children, and need for individualised attention should be considered.
What are the different types of services?
There are different types of services that are available as options. The most common is Long Day Care which includes Child Care Centres or Early Learning Centres and then a variety of others which you can find out further down the page.
Child Care Centre/Early Learning Centre:
Child care centres focus on the care of children in groups. These Centres have their benefits where the children have the opportunity to socially interact with children their own age plus sometimes children of other ages depending on the service. The curriculum should be play based with learning opportunities incorporated into daily activities.
Are there any differences between a child care centre and an early learning centre?
On the surface the answer is no. Child care has evolved from primarily caring for children or babysitting through to educating children in preparation for school and life in general. At Parkside ELC you will find the latter.
Kindergarten Program:
Many Long Day Care centres will also run the Queensland Approved Kindergarten Program. The Kindergarten Program is focused on preparing children with the transition from Child Care to School. It can be attended only by children who are pre-school age. Kindergarten programs have their own curriculum which is play based and must be delivered by a bachelor degree qualified teacher. If you have younger than preschool aged children think about enrolling in a child care centre that provides long day care and the Kindergarten Program. This will assist in the smooth transition with their peer group where they have existing relationships.
Family Day Care:
Family day care is child care but in somebodies home where they live. One family day care can normally not have any more than a maximum of 4 children including the carers own. The quality of the service can vary depending on a number of factors. The carer and the environment would be two of the biggest factors.
Aupair or Nanny:
A Nanny or Aupair will provide care in your home environment and could suit many families. With a Nanny you will have a lot more control over what is taught and the daily routines. A Nanny can be expensive and children could miss out on social interaction. An Aupair will expose your children to another culture. They are less expensive but the quality of care can be mixed. Aupairs are not normally child care experts and use this as a method to travel and experience other cultures.
What services are included?
This is a very important question. Some centres will only provide the basics. When researching and visiting centres be sure to find out what services are included and what are not and if they are included in the daily fees and what is charged as extra:
Some questions to ask:
What are the opening hours? Try to find a centre with the longest hours possible. You never know if you situation changes in future.
Are meals provided?
Is the Queensland Kindergarten Program run at the centre. A bachelor qualified teach must be onsite delivering the Kindy program.
Do they provide nappies and wipes?
What flexibility is there to meet a families changing demands?
Do they run out of school hours care? This may be important if you have school age children as well..
Is the centre part of a large chain or run hands on by the owner? Both can have their advantages.
What other services to they offer such as Bush Kindy, music programs, sport programs, second languages.
We'd recommend you have a list of important questions to ask the centre before speaking to them so you can tick off all the important factors.
How much will it cost?
When looking at the fees look into what is included and does it represent good value. A centre that has extremely cheap fees, is this representative of the quality of care provided? If a centre has the most expensive fees in town is it the best centre in town and what will they provide above all the other centres.
Two very important factors to find out are are
What is included in the fees?
Find out all the services included in the fees. You may find a centre that has slightly higher fees may represent better value. If they include meals the hassle you may save might be worth the extra cost especially if the meals are of good quality. If you cannot transport your children a courtesy bus might be the most important factor
2. What do I actually pay?
The amount that you pay as a family is called the 'gap' fee. That is the different between the centres daily fee minus off what the government subsides. No matter what centre you attend the government subsidy should not change. Be sure to talk to Centrelink to understand what you are entitled to in regards of child subsidies as pass on this information to the centre.
Child Care Subsidy – Your child care subsidy is call CCS. Most families will receive some sort of subsidy but some families will not.
There are a number of other factors where you could get a reduction in fees from government subsidies. Be sure to discuss with Centrelink and your service.
In summary
The best piece of advice we can give is go with your child and visit a centre. You will quickly find out if it is the centre for you. Observe how your child responds in the centre. Are they comfortable? Do you connect with the owners/educators.
Call us at Parkside Early Learning Centre for a tour on 07 54827738.
We'd love to meet you and discuss your children's education and care needs.
Carolin & Andrew Riley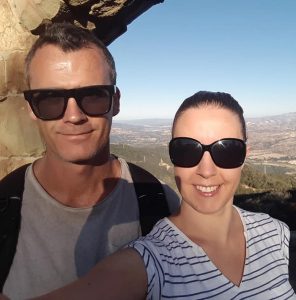 childcare, child care, kindergarten, kindy, daycare, day care, nursery, preschool, gympie