If you are a parent of more than one child than you most like have experienced sibling rivalry, that constant nagging, pushing the other person's buttons, wanting what the other one has or can do, or the "he said/she said" scenarios! Sibling rivalry can be so frustrating for parents but I am sure it is frustrating and stressful for the siblings, too. Yet there can be a daily soap opera playing out before our eyes of the good, the bad and the ugly of sibling relationships.
We straight away wonder 'Is it just our children? Why are THEY so bad?'
Social development of children starts right from birth. Babies hear our voices even when their eyes cannot see perfectly yet. This is the beginning of social interaction-listening to someone. They then move on to establishing eye-contact and then we see that first smile that shows the connection we have built in just a few weeks! This first year is all about the enjoyment of interdependence. In the following two years, we move on to more autonomy – children become more wilful and often this age is marked by what we call tantrums! During this time, we teach children to share, take turns and become more aware of the negative impacts of some of their actions. From 3-6 years, children show more initiative and purpose to what they are doing. They have developed a feeling of guilt if they have done something wrong.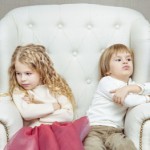 When families grow and more siblings come along problems can occur right after birth of a new brother or sister. The other child has to adjust their position in the family hierarchy and this can lead to behavioural problems. As they get older sibling rivalry can present as jealousy, competition and in fighting with each other. Many parents are worried about this.
Children display sibling rivalry for many reasons: It can just be part of normal development. As children grow their own personality and become independent individuals they express this and it can clash with other individuals around them, in this case their siblings. The home environment is often a safe place for self-expression in a way children (and adults) would not act in public. As long as it is not harmful to them or others it can be seen as normal growth of their own identity and an experiment how to express this identity. However, aggression and physical fighting should not be seen as normal and must be addressed and redirected.
Other factors can influence sibling rivalry like the mentioned arrival of a new baby: if parents favour one child over another, which can often happen subconsciously, if parents or children are particularly stressed and have a short fuse, parents going through a separation can or major changes in a child's life (death in the family, moving house/town).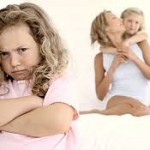 The way to address sibling rivalry is by spending equal amounts of quality time with each child. This can be tricky with the demands of younger children but often time can be spent after younger children have gone to bed or special one-on-one time can be scheduled maybe once a week like a date. Avoid favouritism and allow each child to develop their individual personality. Outbrakes of fighting, especially if they become physical, must be stopped and as parents it is our job to role model positive alternatives to fighting like having a civilised discussion where everyone will be heard and everyone can learn to make compromises. Parents can watch out for triggers like time of day, level of tiredness, stress factors like school or other issues in the children's lives – these can be used to give early warnings to prevent a quarrel or fight. Some children may need extra help managing anger issues which can be provided by a specialist like a therapist or councillor.
In a quarrel help your child to express feelings rather than engaging in argument over who started it. Allow them to share their side of the story and support them to find resolutions. Aim for a win-win result but even if not everyone is happy at the end, it will be a long-term lesson in how to negotiate in an appropriate manner. Regular family meetings can be a helpful tool to bring everyone together and teach those skills.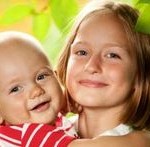 In time children will get to know each other better, accept each other's differences and individuality and learn to avoid arguments in the first place. This should restore the peace in your house again!