Clashing with toddlers normal—and beneficial
Are you a mum or dad of a toddler? Do you feel like you're in constant conflict with your toddler? If you answered yes, you're in good company, say researchers from Lehigh University and University of California–Davis originally published in the journal Child Development:
The scientists recruited children and their mothers through birth announcements in local newspapers and then observed them when the children were between 30 and 36 months of age. They were watched in typical situations that might cause conflict, such as when mothers were instructed to keep their toddlers away from enticing toys or ask their children to put away toys they'd been playing with. Frequent conflict arose during such situations—an average of 20 times per hour! The number ranged from 4 to 55 times per hour throughout the study. Sounds exhausting!
Though exhausting for everyone, these types of conflicts can help children learn important emotional lessons in addition to social norms, experts say.
No one really likes conflict, especially when it is with a little toddler. We love them very much and don't want to argue with them or withhold things from them.  But sometimes this is necessary for their benefit. These seem to be the very situations that make our toddler throw a tantrum, scream and shout or start getting aggressive towards us. Sometimes these situations last several minutes or even longer!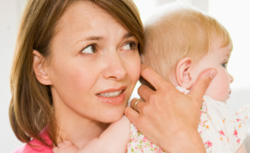 However, those frustrating moments are important lessons for your child. Reality is we can not always have what we want and it may not feel pleasant when that happens. Through conflict children learn to respect other people's needs and opinions. They learn that not every conflict has a win-win ending. In conflict situations children can learn to actively listen to others and learn to express their feelings.We need to teach our children how to deal with these situations.
Our educators at Parkside Early Learning Centre give these tips to avoid conflict or tantrums:
Positive attention. We try to catch the child being good and reward them with specific praise and attention for positive behaviour, e.g. "I like the way you just passed that toy over to Lucie!"
Give control. At our centre we give children choices with in save limits. Our environments are set up for children to choose what they want to play or do and access things themselves. These opportunities for choices help the child to feel in control at some time rather than feeling that their whole lives are pre-determined by adults.
Out of sight and out of reach. This avoids struggle and endless arguing. Simply remove the item of issue, e.g. Ipad or toy. Obviously, this isn't always possible.
Young children have a shorter attention span which can be used to our advantage. Our educators often diffuse a situation by offering something else in place of what they can't have. They may start a new activity to replace the one they can't do or change location, leave the room together or go outside.
Teach self-help skills. Our educators help children learn to do things for themselves. We praise them to help them feel proud of what they can do. Self -help skills boost your child's emotional stability and build more confidence.
Build language skills. Young children's biggest issue is often that they can not express themselves properly due to limited language skills. We need to teach them and focus on the basics like expressing feelings or simple words like stop.
At Parkside Early Learning Centre our educators know younger children find sharing, turn taking or giving up a toy challenging. When children react in a negative way they stay calm and respond in a reassuring way. The calm of your voice (fake it till you make it even when you are getting mad!) can diffuse the situation or at least make it a lot shorter and less stressful for all involved!
Child Care, childcare, kindy, pre-prep, pre-school, kindergarten, early learning centre, eating, family, gympie, best, daycare.